Maria Paulette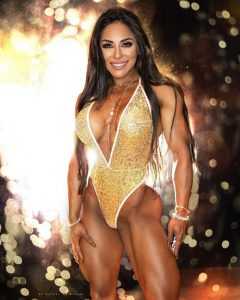 Height: 158cm
Weight: 55kg
Country: Spain
Date of Birth: October 12, 1979
Instagram Known Name: lapaulettefitness
Maria Paulette has always been successful in sports and academia since her childhood. Of all the sports and activities Maria tried, dance was her favourite. After practicing dance for a few years, she decided to turn it into her profession. "I received the necessary diplomas in different dance disciplines and dedicated myself to it". – Maria Paulette
Although she initially spent a lot of time as a dancer, things changed after Maria enrolled in college. With more responsibilities on his hands, he had less and less time to practice dance. Over time, this caused him to lose his passion for the activity. Over time, Maria began to look for other ways to stay active without devoting much of her time to it. This was when he stumbled upon fitness. After joining a gym she encouraged her to delve deeper into the fitness world. Maria became addicted to working out at the gym after seeing results with her physical appearance, strength, and overall performance. And within a few years she became a contestant.
She became an IFBB Bikini Pro athlete by winning the Pro Card in 2014. She has continued to grow over the years and now competes in top-notch fitness shows. With her formidable ambitions and hunger for success, Maria continues to make a splash in the fitness and bikini competition industry. Maria Paulette has 332k followers on Instagram with the username lapaulettefitness.
Achievements:
2014
Spanish Absolute Champion, Under 160cm fitness bikini category, wins Pro Card
2017
Miami Muscle Beach Pro, IFBB Bikini, 13.
Fort Lauderdale Cup, Bikini Class, 12.
Puerto Rico Pro, IFBB Bikini, 11.
Wings of Strength Chicago Pro, IFBB Bikini, 6.
2018
San Marino Pro, IFBB Bikini, 7.
Veronica Gallego, IFBB Bikini, 16.