Chris Bumstead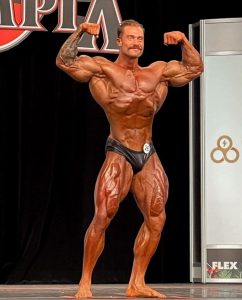 Height: 186cm
Weight: 102kg
Country: Canada
Date of Birth: February 2, 1995
Growing up, Chris Bumstead played many sports that he learned to be the best, he had to train in his own time. He spent hours in the gym and fell in love with the gym from that point forward. He started developing what he thought was a good physique, but things started to change for Chris until his sister met her boyfriend, Iain Valliere. It was Iain who mentioned that he could compete and be a fierce competitor. As Chris says, "He was and still is a huge mentor to me. Iain inspired me to get on stage and coached me throughout the process. "After Chris competed on his first show, he got hooked and as he said, "I really feel like I've found my passion." Bumstead first competed in 2014 at the age of 19 and later won his Pro Card after winning the 2016 IFBB North American Bodybuilding Championships at just 21 years old. Bumstead is the current Classic Physique Olympia champion, a title he won in 2019 and 2020. He finished second for Breon Ansley in the same competition in 2017 and 2018, and it was definitely frustrating for him. However, in 2019 he brought a wonderful package that earned him the first prize in the world's biggest competition.
His 2019 Olympia win was impressive considering he had hernia surgery months after the show. Bumstead was victorious once again to win the Olympia title in 2020. Meanwhile, Ansley finished third and that could be the end of an active rivalry, but we'll have to wait and see. As of now, there's no word on what the future of Classical Physics will look like, but Bumstead probably doesn't want to give up his crown anytime soon. Chris Bumstead has 4.7m followers on Instagram with the username cbum.
Achivements:
2020 Olympia Classic Physics, 1.
2019 Olympia Classic Physics, 1.
2018 Olympia Classic Physics, 2.
2017 Olympia Classic Physics, 2.
2016 IFBB North American Bodybuilding Championships, 1st (Pro Card)
2016 CBBF Bodybuilding Championship Open Heavyweight Division, 2nd.
2015 CBBF Canadian National Bodybuilding Championships Junior Division, 1.